Amsterdam Knowledge Base

A B C D E F G H I J K L M N O P Q R S T U V W X Y Z





Frans ?


Sativa, sativa, sativa.
Hands down, the best I have ever experienced, in my 30 some
years of puffing, was very fresh indoor home grown hydroponically
grown Thia weed. Under the influence of this godlike, state of
grace inducing substance, I once wrote the most complex, technical
automated control sequence for a huge hospital air handling system.
Took me 8 hours of non-stop, very stoned intensive work. Of coure,
everything looks fine when stoned, but my work product was subject
to engineer peer review, which it passed without comments, and
in the end it was programmed as I wrote it, and worked just fine,
like ye old swiss clock.
You cannot find fresh Thai in NL... at least I have not.
Closest thing are Thai sticks... in Haarlem, Frans something
cofffeeshop in Haarlem, but the sticks are not fresh. Still fairly
good, though.
Other recommended sativas, which I classify as Functional
Weed, for cerebral activity type stuff, include:
Neville's Haze @Greenhouse
Kali Mist @Dampkring & Greenhouse
Siberien Tiger 2 @Siberie
Durban Poison @Pax de Boot Coffee Shop, Breda, NL, sometimes

Thai Sticks @ Frans ? Coffeeshop, Haarlem
DTH (Durban/Thai/Highflyer) @Pax de Boot Coffee Shop, Breda,
NL, sometimes
On the Must Try list:
Mekong Haze @ Barneys Coffee Shop
Also, Kali Mist is now available in Moonshine form at Dampkring,
another must try variation. Careful, may be hazardous to your
state of mind.
:-) Dogbreath

The former Frans Hal coffeeshop in Haarlem is now called Willie Wortel's Sativa. Nol wanted to make each of his three coffeeshops in Haarlem to specialize in a specific kind of marijuana. So now all of them have different names to reflect the type of weed they specialize in, so now Frans Hal is Willie Wortel Sativa, Dutch Joint is Willie Wortel Indica and Willie Wortel Workshop is now Willie Wortel Sinsemilla.Since you like sativa's so much I guess then the one nearest to the train station is the one for you! Lucky, you wont have to trek all the way out to the original WWW to get your Thai sticks!! When we were there just the other day, they had just gotten in a new batch of that stuff and I was checking it out, and man I just dont understand why you want to smoke that crappy looking stuff. And it didnt smell good either, it looks like shit I have to smoke at home!Have fun next month!!

Special offers

City Hotel Amsterdam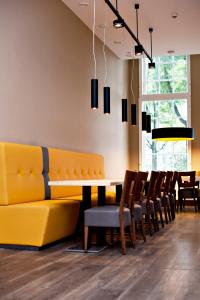 Prices from EUR 90


Please note that for cancelled reservations of more than 5 rooms or 10 persons, no fee will be charged up to 14 days before.... >>


More offers...