Amsterdam Knowledge Base

A B C D E F G H I J K L M N O P Q R S T U V W X Y Z





Bookings alternatives?





---
I'm looking to (re)book my hotel for the may 6 - 17 time period, and I was curious if anybody had leads on Bookings alternatives? I'm sure they inflate their prices beyond what these hotels normally advertise, and I just feel like a sucker going skin deep in a search for accomodations.

I'm on a shoe-string budget as well, so I'm hunting for a Double room between 60-80 Euros (anybody want to teach me how to trigger the euro symbol on a g4 powerbook?).

I know about priceline, and the website to teach you about pricelining (see the thread "Priceline for Hotels?") but am underexperienced in that department and hessitent to take a stab. I know the airline aspect doesn't tell you much aside from the date of departure and cost before you're forced into it.

Anyhow, thanks a bunch.
---
On my ibook it's shift, option, 2...?
---
You should have no trouble finding a double room in that price range, provided you don't want anything fancy. Broadly speaking, the further you stay from the centre, the more you will get for your money. Or try staying in Haarlem, which is really good value and a mere 10 minutes away by train. Very nice place in itself, too.

If you want to be in the heart of the action, try the Winston:

http://www.winston.nl/

the Old Quarter:

http://www.oldquarter.com/

or the Torenzicht:

http://www.torenzicht.com/

I find it's always best to phone them directly, you can discuss your requirements. For instance, I am partially disabled and can't cope with a lot of stairs, so they always put me on the first floor. Vital in A'dam if there is no lift!

At the lower end of your price scale, we found a double room (shower and loo in the hall) for 60 euro at the Old Nickel. The location could not be bettered from our point of view. I'll be back after our trip (31 Oct- 3 Nov) to tell you how it was. I couldn't find a website, but I believe it is owned by the same people as the Old Quarter, and the phone number is: (0) 20 624 912.

Hope this helps.
---
I have stayed at the Apple Inn located alongside Vondel Park. It is on tram 2. They have rooms within your price range most of the year. Nice location with a tapas restaurant nearby.
---
The Hotel Kap has rooms in your price range I believe. I like it's location too - quiet, yet walking distance to the Leidseplein and major museums and near an intersection of several different tram lines.
An easy way for you to determine how big (if any) the markup is through bookings.nl is to try and find the hotels website and compare. I've done this several times, and it's generally not more than a couple euros (which of course helps to pay for this website).
---
For PL try www.biddingfortravel.com That site takes out all or most of the guess work before you bid.

Doc
---
As for the Priceline booking, you aren't told which hotel you have booked until after your bid has been accepted and you are locked in.
---
thats the part that scares me.

i search alot, Hotel Hemonyhof offers a double with toilet/shower ...7 nights 350e. looks nice, its in De Pijp. i would rather be closer to Dam Square.

i found a 50 percent off at Hotel Mulitali (sp?)...just across from central station, looks very nice, has a lift, double with toilet and shower, 540e for 7 nights.

i still have time to decide and might give priceline a chance. or i might just go with my favorite city mundo rental.
---
Not knowing the hotel on PL should not be a big deal. If you go to bid4travel...you will know what hotels are in the area of the city you are bidding on. In AMS there is not a 4* that I would be afraid to stay in for a decent price. It looks like the Park may be the worst of the lot.

Doc
---
i read alot of reviews and bid reports on that website, very interesting, the Park did get some negitive reviews. still it looks as if it is going to be around 80 euro per night.
Special offers

Amsterdam Canal Residence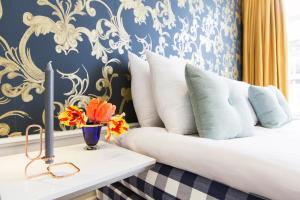 Prices from EUR 132


Amsterdam Canal Residence is located in Amsterdam, only a 15- minute walk from Leidseplein. It offers non-smoking accommodation.... >>


More offers...