Amsterdam Knowledge Base

A B C D E F G H I J K L M N O P Q R S T U V W X Y Z





Vibe in Amsterdam





---
Yeah, ok.....thanks O'spencers.....

My girl is gonna pay her own way seeing as how
we're going Dutch and all! So I can count on spending
well less than $100 per day for myself not counting lodging
and not feel like I am scrimping or missing out. Right?

You should be fine with less than $100/day, as long as you're not looking to live like a king. Most museums appear to be between 7-10E/person; drinks range from 1E-5or6E(soft drink up to expensive beers); weed is priced between 6-12E/g and some places offer quantity deals. You can eat cheaply - Falafels, pizza slices, all-you-can-eat Chinese. Trams are reasonable, also.
---
Thanks Angellore!

(Our town actually has a pretty small market...a Wal Mart has opened in the next town over but I have not shopped there and I doubt i ever will!)
---
I will be visiting Amsterdam in mid March for six days.
Any suggestions on how much money I should budget
for my stays. I already have booked a couple hostels
so I'm really only interested in the ammount of spending
cash to bring along?
---
lots!
---
as much as poss
---
Hi Guest, depends on what you're buyin'.

Food: slices of Pizza for 2.50 E, cokes about same. grocery store meals from 2 - 5 E. Sit-down dinners 10E and up with a drink, easily 20E if you drink a few good beers and have a medium good dinner. I'm sure you can spend 50E if you want to on a meal, trimmings, drinks, etc.

Weed: how much do you smoke? do you want hash too? 5 E - 20+ E per day will get you stoned or make you a zombie, depending on how much you smoke of it. If you're a real pro and want to go overboard, up that ante a little.

Hash hot chocolates: 5 E at Betty Boops

Ladies: are you buying any companion-time, you didn't mention and it will cost a minumum of 50 E, generally, but can go much much higher and they will generally accept all that you can spend and some of them are very good at it (getting the Euro's out of you).

Otis
---
Transportation- From airport, trams depending on where you are staying.Internet usage, phone calls home, stamps, greeting cards. Travel- do you plan on going somewhere outside of the Dam? Visits for museums?
---
Ok...Well I am thinking about staying at StayOkay Vondelpark (hostel) and probably will not be going outside Amsterdam. I'm bringing a girl with me so hopefully no need to visit the other ladies. As far as smoke is concerned I will definately partake but just the grass no hash and I won't be hangin out stoned the entire time. I'll probably be eating cheap food and buying some basic groceries. I was thinking on Avg something like 50 Euros per day. Is that reasonable?
---
You have to allow for unexpected things that might come up. You will forget something. I guess it depends on what you eat. If you eat plain bread for some meals. It sounds like it is doable but that would mean buying only at a grocery shop no restaraunts of any kind. So it might be worthwhile to bring things with you like whole wheat crackers, peanut butter, etc... Fruit is expensive there. You could certainly buy Dutch cheese a majority of the time. If you are a coffee drinker perhaps you bring your own coffee aparatus.

But you should have some reserve funds in case of any contingency off this plan. But I believe that it can be done. I think that there would not be alot of funds for places like clubs or even movies but I could be wrong. Internet use would have to be very sparingly. I guess you need to find out about various things for free there. Please keep us apprised of what you discover.

BTW, in a coffeeshop you can sometimes find remains of other visitors and in fact often you can be invited to join in a smoking of course this is a type of non-deliberate endeavour.

I say go for it. You can do it!!!

Peace,
Gene
---
Okay....so I was thinking that 60 euros would give me a little more play room but I guess I will have to bump it up a bit (which should be no problem). However, and I think I mentioned it before, this planned 60 euro a day budget is taken into account apart from my lodging expense. Would 100 euros per day not counting the lodging be a little more suffice.
---
Lots of posts in the archives about cheap travel. I love cheap travel. On my solo trip last Feb I did 6 days for under a grand (including air from DC and hotel). If you make use of the hotel breakfast...herring sandwiches...shorma sandwiches...pizza slices...and the very cheap but very good asian resturants (many in or near the RLD) you can eat very well for very very little. I can eat like a king for 15-20 euro a day.

Take advantage of the 5 gram specials for grass and hash and you do not have to skimp there either.

The best thing you will be doing is totally free...walking around Amsterdam.

Doc
---
Eat breakfast at the hotel. For lunch, our favorite thing to eat was Maoz Falafel - 3.5 euro for a good, semi-healthy meal. Plus, you can refill your pita with salad & fixins as many times as you want. With fries & a drink, you have a great meal for 5e. You can definately do Amsterdam on less than $100/day if your hotel is already covered. Pancakes were about 6E and waffles make a great munchie for about 1.5 e. If you are not a heavy smoker, you should be able to get by on 2g/day at an average of 7.5/g. If you smoke tobacco, buy your cigs here in the states and take them with you so you don't have to spend 6e/pack for your Marlboro fix. Coffee at a coffeeshop is about 2e, so you'll still have enough money for a reasonable dinner and museum admissions for both you and your girl. Just do a little research on which museums you would like to visit so you can get the most enjoyment for your admission price! Another thing is that if you are interested in taking a canal tour, you can also us it as a form of 'taxi' service for the day. It's a good way to get around the city and everyone should take at least one canal trip while they are there. In October the cost was 13e for the all day pass. Be smart and don't go crazy - just because you are on a budget doesn't mean you have to 'scrimp' and feel like you missed out on something. Good luck from one budget traveler to another!
---
i am off to ams in 2 1/2 weeks time for 4 day i think 100 euros per day is about right for me 50e for smoke 50e for bits and bob food,drink and so on.....
---
Yeah, ok.....thanks O'spencers.....

My girl is gonna pay her own way seeing as how
we're going Dutch and all! So I can count on spending
well less than $100 per day for myself not counting lodging
and not feel like I am scrimping or missing out. Right?
---
Best plan is to budget each day equally and if you have money left each night carry it over to one specific day where you can really go overboard. usually, once each stay, we manage to come back for a nap about 5pm and sleep through till late, hence missing a night and saving a lot of cash!
---
Hi,

We've rented an apartment (garden villa @ www.experienceamsterdam.com...I would welcome any experience/tips/thoughts about that place actually).

We have a kitchen so thought we might at least have breakfasts in, and maybe some dinners. Are grocery prices comparable to the US or should we consider bringing basic non-perishables from here?

Thanks!
---
Grocery prices are about the same as the UK, so more expensive that the US I would think.

Definitely make use of your kitchen. I'm going to get shouted down for this, but I do grocery shopping in Albert Heijn http://www.albertheijn.nl/ They're reasonably priced and you can get most of the things you need. A warning though, they are NOTHING like the Wal-Marts and other supermarkets you have in the states, much smaller. But you can buy cheese, meat, yoghurts etc, and get some bread from the bakery to make sandwiches which you could eat for lunch rather than eating out. If you go to http://www.albert.nl/ click on the Albert Heijn link on the left and then to alle producten you can find out the prices of things. It is in dutch but some words are easy to figure out and theres pictures to help! Buy your bottled water here too as it is so much cheaper than buying it from newsagents and 'tourist' shops.

I also reccomend the Mannequin Pis on Damrak for excellent frites (more like british chips than french fries) for just ?1. Very cheap and filling :)
---
ok travelling on a budget, i can probably help as i'm there tomorow and will not exactly be rolling in it (booked flights ages ago and am now "between jobs").

Tip 1: De Kuil coffeeshop let you bring your own food (I assume they still do). Thus you can buy pizza slices/whatever and eat indoors with a nice beer/spliff.

Tip 2: Already been mentioned, various places do 5g deals. My particular favourite (and I believe its had a number of mentions on this forum) is 5g of blueberry from the noon for 23 euro (though its prob gone up now!).

Tip 3: If you're a culture vulture and you're gonna do lots of places, get a museumkaart.

Tip 4: There's a lot of bars that do happy hours. Check around.

Tip 5: Bring loads of money anyway! Amsterdam has this effect, the more money you bring, the more you'll spend. But you can do it on a budget, hell the first time i was in the dam i lived off about 30 euros per day. but i still had a great time. hope ya enjoy it!
---
If your lodging is paid for, of course you can survive on E50 per day. But, as others have said, bring more. It is one of those situations that if you buy sandwich stuff and keep in the hotel, if you have more money in your pocket, the sandwich stuff is likely to go sour by the time you leave. You will walk a lot and when hunger hits you, forget about going back to the room for a bite. If you have money, you will eat out.

It is a vacation, live it up and enjoy some FEBO! lol
---
Great. Thanks everybody for giving some input. I was really looking for a ball park figure and I've found it. thanks again
---
I'd take about $2million USD, partly due to the weakness of the dollar, because according to rumor, the Grey Area is for sale for approximately a million euros. If you can't swing that, then take everyone else's advice... they are correct!
---
so one can suggest how much money you should take, No one!
everyone is diffrent so it doesnt do you any good knowing how much they would take,
research the prices of weed and make a daily budget/schedual for yourself
count in food, i was told about 10-15 which was close but it wasnt good eating, it was junk all around,
drinks are also a killer, i dont like alcohol but found i needed a lot of redbulls to stay Up after all that smoking,
you can take some energy pills so you wont spend 2.50 euro on each red bull(just make sure you dont drink any alcohol with them)
take the rld into consideration
and all other costs, i personally was shocked how much i spent on transportation, take some cab $$ just in case you cant get back to your hostel
or fined your fave CS
And bargain! with the cabbies!
after all your calculations take some extra $$ for hidden costs that no one might have mentiond, you can always bring it back.





then the owners of grey area should be killed! i cant believe they wpould sell!
---
One thing that killed me is that I am very prone to cottonmouth when smoking nugs. In the states, a $1.25 coke in a restuarant is "bottomless". But in the dam, a E1.25 coke will come in a tiny glass bottle and each one will cost you another E1.25! Now, I am your typical over consuming American and I keep 7-11 in business with my "Big Gulp" addiction. Those big ole drinks are very hard to find...at least when baked.

Life is full of tradeoffs
---
One thing that killed me is that I am very prone to cottonmouth when smoking nugs. In the states, a $1.25 coke in a restuarant is "bottomless". But in the dam, a E1.25 coke will come in a tiny glass bottle and each one will cost you another E1.25! Now, I am your typical over consuming American and I keep 7-11 in business with my "Big Gulp" addiction. Those big ole drinks are very hard to find...at least when baked.

Life is full of tradeoffs

I think the states is the only place I know where bottomless cokes is a rule! Its rare here in the UK, only offered by the US chains such as TGI Fridays and Pizza Hut. I know what you mean about the cotton mouth though, a nightmare that a diddy little bottle of cassis cannot abate. I usually have a bottle of water in my bag at all time, so I buy the cassis and take sly sips from my water when no-ones looking!
---
Yes, but the strip clubs aren't. ;>
---
I will be visiting AMS in April for about a month and had a few questions about the vibe in AMS. From the things i read on this site AMS seems as though it is the closet city in europe to America (some may not consider that a compliment.) I wonder how racially diverse Holland is. Where are the best places to meet people? Are there places where young people hang out? Are there Coffeeshops that are like bars in America? How do i find out about the club scene? Are there Coffeeshops that cater to a younger audience?

Sorry, i think that I am really pumped about my trip, if anyone can make out this message please help me. This site really is the best, there should be one of these for every city.
---
I don't consider Amsterdam to be that close to America, it's just very easy for solely English-speakers to get along as most everyone speaks very good English.

Take a look around here for the info you're looking for - there have been threads on clubs, coffeeshops, bars, etc. But quickly - some coffeeshops do sell alcohol, and two in particular I can think of are more like bars, IMO, than coffeeshops are Rookies and the Bulldog sports cafe, each right by the Leidseplein. Also, IMO, most coffeeshops cater to younger people, just know that I believe you're supposed to be 18+ to get into coffeeshops. As for meeting people - bars, coffeeshops, around town, there are tons of places.
---
Amsterdam is extraordinarily racially diverse, much more so than many other cities in Europe, possibly the world. People are also much more accepting about the way you are. You could walk down the streets in just your underpants and most people wouldn't bat an eyelid (well, the tourists might!) When I was there in early fall once there was a guy rollerblading through VondelPark in nothing but an illuminous pink thong and people just let him get on with it. Try that in any park in London and see what happens!! Gay people walk around hand in hand and will kiss each other without having to worry about the consequences as they would in the UK and the States. I love it all. I think its a very liberating city.
---
Yep, if you want that american bar vibe go to rookies. Most other coffeeshops are smallish and are more chilled out. Rookies is cool though, they serve beer, have a pool table and it is definitely a good place to meet folk. the last time i was there they turned out the lights and people danced on the bar to ghostbusters, you can't beat that sort of entertainment!
Special offers

City Hotel Amsterdam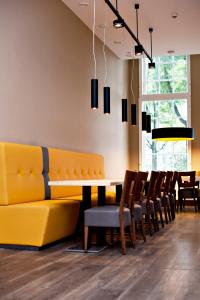 Prices from EUR 90


Please note that for cancelled reservations of more than 5 rooms or 10 persons, no fee will be charged up to 14 days before.... >>


More offers...