Amsterdam Knowledge Base

A B C D E F G H I J K L M N O P Q R S T U V W X Y Z





GoatMans top picks




I had most on my list.... only 6 days until Nirvana.

....'cept for Dampkring. I had forgotten <jot, jot
Must try bubblehash. LOOGGOWWTTT!!!

Thanks again.......OH! tell me about the Hawaiian Copelandia trip.

Amsterdam exit, 1/256th mile

WOOP!


---
Hey all.......goatman back again....sorry for my long absence,didnt have internet acces :(

Well,I had a wonderful trip back in october and here are my favorites after my 10 day trip:

Best c/s:dampkring all the way....my favorite there is a tie between NYC diesel and super sage.The bubble has there is worth the 30 euros a gram it costs,when i bought it the weed tender told me "be careful with this",I thought it was cool that the hash comes with a warning,with good cause because it blew my mind! The super citral was also a good choice,really tastes and smells lemony fresh,yummy.

2nd best c/s: The dolphins mostly because of the cool decor and lots of space downstairs.Also because there was a cutie working the bar the days that i went. The white dolphin hash was pretty good,but after smoking the bubblehash at dampkring it pales in comparison. The herb also named white dolphin was pretty good also.

Best smartshop and best fungi:This is a tie between tatanka(real friendly helpful people here,and right near my hotel) And smartzone(i think it was the one thats not in the rld,but my memory is a little "fuzzy")
Best fungi would have to be haiiwian copelandia,followed by equadorian,and then philosophers stones.The only reason smartzone is on my "best of" list is because the guy working there was very very friendly,and we sat(well i stood) there for 45 minutes talking about everything from our fav coffeeshops,to music and salvia.


Best food: Kentjil un de tigre (thanks for the tip LastHamlet) and FEBO,food from a wall,god i love that!

Best cultural and educational experience:Van Gogh museum,Really cool and worth the 7 euros to get in (maybe it was 9 euros?) Spent a few hours wandering around checking out his work,what a brilliant(and insane) artist.

Best bar: De Burgh(in the red light district right near cassa rosa and the marijuanna museum. Happened in there by chance at 11 in the morning,I was the only one there except the bartender.I ordered a pint and sat there relaxing,and the bartender was very friendly,asking me if i smoke herb(yes,obviously) And he proceeded to roll up a hash joint and share it. And in talking with him i found out he used to work at coffeeshop xperience.We played a few games of pool and i drank some more beer.
If you get a chance stop into this cool bar in the RLD, Good location for after activites drinks,Wink wink. Well,thats all for now,but stay tuned boys and girls,shroom trip reports coming shortly(and there were lots of them)

Godspeed,
TheGoat
---
Thanks Goat!

AAAAAAAAAAAAA....bbbaaaaaaaaaaaa...
<just to make you feel at home

Special offers

Old Town 2 Apartment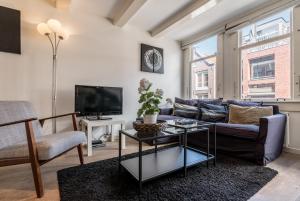 Prices from EUR 0


The Old Town no.2 offers accommodation in Amsterdam, 600 metres from Leidseplein. The apartment is 600 metres from Flower.... >>


More offers...