Amsterdam Knowledge Base

A B C D E F G H I J K L M N O P Q R S T U V W X Y Z





coming in week of April 5





---
Only in town for 2 days and 3 nights.
We are staying near the Centraal Station. Interested in seeing as much as possible! Some chill coffee shops and the must see museums.
We are interested for typical tourist reasons to see a sex show.
and clubs. and a canal tour. oh so much to do in just 2 days.

We would like to rent bikes to just rip around town. Can we do that and just lock them up and trust they won't get stolen? In the RLD?

just looking for a little DAM advice..
---
Never ever anywhere in Amsterdam can you trust your bikes won't get stolen! Best thing to do is talk to the rental company and get their advice - plus make sure you follow any rules they may have in terms of conditions and insurance etc.

Oh, and beware, biking in Amsterdam is not for anyone with a heart condition ;-) I personally find walking much nicer and easier, as the city is geographically sooo small and there is so much to see and experience everywhere :-)

Have fun :-)
Michelle
---
I'll second the preference for walking in A'dam. Around home I ride my bike 45km in 2.5 hours for fun, but over there I prefer to walk and take in the environment at a pedestrian's pace. Not to mention the burden of a bike, lock, and all. The city core is small, no place is really more than a 45 minute walk from anyplace else, and that's allowing some time to get lost...

OTOH, this trip I'm planning on renting a decent bike and going for a ride *outside* the city. The Dutch country side by bike sounds fun, and at a more leisurly pace I can do about 30km out and 30km back in four or five hours, I expect. So bikes do have their uses, but don't believe all the guide books that say they are a must have. Walking is a great way to get around A'dam....

Ron
---
Hi dodgedart, looks like you will be in the Dam on my birthday, I wish I could be there to give you advice in person. I would skip the bike idea and get a 2 day tram pass(info at www.gvb.nl ). The Tropenmuseum is great, if you like paintings the Van Gough is a must IMHO. The Casa Roso(sp?) for a sex show and the 75 minute canal cruise that departs from infront of the Best Western Museum Hotel(located by Rijksmuseum) is very nice.
---
Well, I actually would try to ride a bike in Amsterdam... it's quite an experience actually. :P.
Special offers

Sabri Homes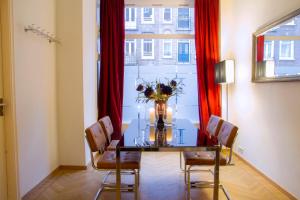 Prices from EUR 0


Sabri Homes offers self-catering accommodations in Amsterdam, all located around the Vondelpark. Free WiFi access is available. The.... >>


More offers...