Amsterdam Knowledge Base

A B C D E F G H I J K L M N O P Q R S T U V W X Y Z





Gambling in Amsterdam





---
Is there gambling there? If so, where?
---
There is the Holland Casino near the Leidsplein (I think...). I lost about 40 euros and bought one VERY expensive beer and left. If your a real gambler you might like it but I'd say it was the least fun I had on my last visit. But keep in mind, I was very confused by the slot machines and gave up before I could lose too much. I'm sure its a nice place and the Lido club down stairs seemed to be popular...
---
hi!

yes they do.

they have a holland casino at max euweplein, near leidseplein in amsterdam. holland casino also appears in other towns, for example at the beach city of zandvoort.

also in amsterdam there are plenty of little gaming machines scattered around in different bars.

sometimes i hang out at a little place off of leidseplein where guys play cards for money, even though i don't think they're licensed for that kinda stuff -- it's a bar nobody notices and the guys who play there all know each other.

i think there are also at least two gambling opportunities in reguliersbreestraat, between the munt and rembrandtplein. i'm not an expert in this though so that's about all i know.

love
s g collins
---
I gamble a few times a year in Vegas. I don't do slot machines, they are the biggest waste and ripoff. I only do blackjack and hold'em poker. That's what i'm interested in if they have that there.
---
As a foreigner, you might find it weird that you have to pay to get into a casino... but you have to really.
Things are usually pretty expensive there indeed... For the rest I guess it's pretty much the same as everywhere, but I've only been to Dutch casino's...

http://www.hollandcasino.com/

By the way, I think on wednesdaynight there is free admission, if you really care about saving those couple of euro's....

I don't know much about other casino's, I guess they are there.
There are also some illegal ones by the way.
---
Black Jack yes, Holdem poker like you play, no. If you gamble in Vegas, you will be dissapointed in The Holland Casino. If you do go in. Be sure and dress up a little.

milehigh
---
You can get two folks in free by clipping a coupon from Boom! Magazine - go to www.boomchicago.nl and click on the 'Real Amsterdam' link.

Coincidentally, in about 20 hours, I'll be in Sin City. My plan is simple: Head to Circus Circus, find a $5 pai gow table where I will gamble, consume free drinks, eat 3/4 pound chili cheese dogs with onions and smoke cigars all weekend. Beeeyyelch!
---
...(Pai gow poker) and lose enormous sums of money, lol
Pax
---
Also if you buy the "Amsterdam Pass" it has a coupon for free admission (Holland Casino) and a free drink at the Lido club downstairs...

The only reason we went in was because we had the AMS Pass and used our free coupons... I still lost money though... lol
---
Yes they do have hold'em at Holland Casino. Also Pot limit Omaha.
Special offers

Sabri Homes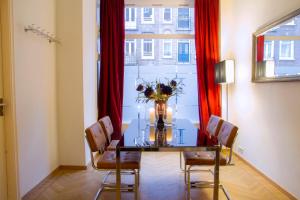 Prices from EUR 0


Sabri Homes offers self-catering accommodations in Amsterdam, all located around the Vondelpark. Free WiFi access is available. The.... >>


More offers...